Rosh Hashanah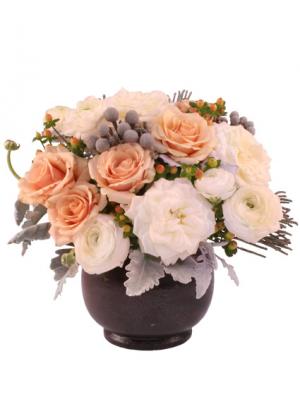 Velvety Hues
Arrangement
Create a calm, relaxing mood with these lush blooms. Featuring white and peach roses, white ranunculus and silvery dusty miller leaves, this arrangement symbolizes pure tranquility and is a beautiful choice for any occasion.
The gift of flowers is a time-honored way to celebrate Rosh Hashanah, the Jewish New Year. This annual festival marks the beginning of the Jewish New Year, it begins at sundown and is a time of repentance and self-examination.
It is common for Jewish families to invite family and friends into their homes to celebrate Rosh Hashanah. It is indeed an honor should you be invited to such an event. It is customary to bring a gift to say thank you for the invitation and flowers make an excellent choice. But even families who don't invite guests add flowers to their home to honor the celebration.
The holiday is in the fall, so fall flowers are a good choice. Fairview Flowers, your Decatur florist, offers beautiful flower arrangements worthy of gracing the tables at Rosh Hashanah celebrations everywhere.
When invited to celebrate Rosh Hashanah with a family, don't forget to show up with a beautiful bouquet of flowers.