Hanukkah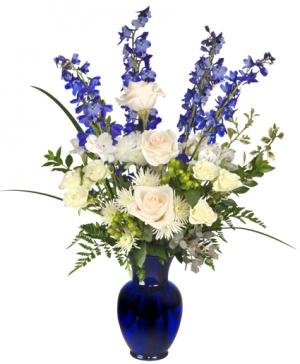 HANUKKAH MIRACLES
Floral Arrangement
Celebrate the miracle of Hanukkah and the Festival of Lights with a beautiful blue and white bouquet from Your Local Florist. Call our shop or order Decatur, GA Hanukkah flowers now from our website.
Have you been invited to a Hanukkah dinner, party or celebration and want to bring a gift but are unsure what is appropriate? This is a common dilemma easily solved by ordering Hanukkah flowers from your Decatur florist.
Remember that Hanukkah is an eight-day celebration, so you should choose flowers that will last at least that long.
This wonderful holiday is a beautiful celebration that brings family together to light the Menorah, eat delicious foods and exchange gifts. During this festive period, send a friend or family member who is far away a beautiful Hanukkah flower arrangement. At Fairview Flowers, you will discover a wonderful variety of unique flowers and color choices that will suit every taste from traditional to modern.
Order one of our beautiful floral arrangements of Hanukkah flowers to grace your table or as a gift to someone you care about.