Back to School Flowers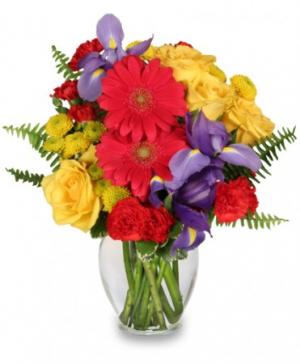 Flora Spectra
Bouquet
Getting fresh flowers is always memorable and special for your recipient - regardless of their age. Featuring brightly-colored blooms like fuchsia gerberas, yellow roses and purple iris, this bouquet has just what it takes to bring some fun and show how much you care!
Starting a new school year is an important event for anybody at any age. On the first day of school, send your student or teacher a floral arrangement from Fairview Flowers, your Decatur florist. A flower arrangement from your florist shows appreciation and encouragement.
Sending flowers to children on their first day of school is a wonderful way to brighten their day when they feel a little homesick or are just having a hard time adjusting to a new school year.
Parents go through an array of emotions sending their kids off to school as well. It all goes so fast. Fresh flowers from your Atlanta florist can be a source of comfort for the mother who just sent her children off to school in a big bus. There may have even been tears when the doors closed.
The nucleus of any school is the teacher. Teachers are beloved and treasured by many children. But teaching is not an easy job, not by a longshot, so show your appreciation by sending him or her a beautiful floral arrangement on the first day of school.